Using ollydbg to crack software. How to Crack a Basic Trial Application / Software in 5 mins with OllyDbg (EyeTwig Tracker Trial) • KC Protrade Services Inc.
Using ollydbg to crack software
Rating: 9,2/10

1269

reviews
How to Crack a Basic Trial Application / Software in 5 mins with OllyDbg (EyeTwig Tracker Trial) • KC Protrade Services Inc.
To understand in an efficient way, try this link: Now, we will start to debug, so that we can find the exact referenced string to work out. Now we have the assurance that the file has not been compressed. Yes it is, we did found a real serial number and we can find a serial for any name we enter by following the procedure of this tutorial. Dissembling with OllyDbg When we attempt to load SoftwareExpiration. Finding a Serial: To begin, review what we know about the program so far: 1. Now, you are going to crack your first program. Click the plus sign in front of Software.
Next
Reverse Engineering with OllyDbg
Good evening, I need your help please so that this application opens without blockage, this app works with only one pc when I try to launch another it shows an error message indicates that the data are changed then there is a relationship between the application and the pc serial numbers, here's the link to download the application must decompress and then made double-clicks the file Star. This is to verify that we can come up with the keys. The source code you see is X86 assembly language and might be messy if you work it for the first time. At last but not the least if you are somehow interested to learn how to crack softwares, that is really good and i will write a tutorial about that topic, but keep in mind cracking an antivirus software is most likely impossible because its almost secured and cannot be cracked easily. Find typical and common Strings in the disassembly that appeared within the program. After reading those three tutorials this is the first one in thsi series , you will feel the power you have in your hands I mean, in your head. Now, we could just put in a serial every time we use it but that is annoying.
Next
How To Reverse Engineer Using OllyDbg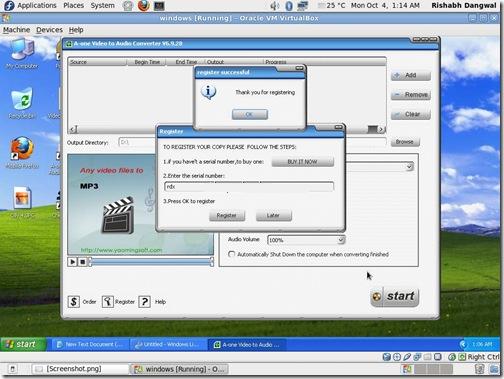 The addresses highlighted with white means that there is set a breakpoint. It started fairly early on, as I've been interested in computers and programming for a long time. At that point, it's a test of your morals if you want to use your knowledge for good or bad. Open up the program with the W32Dasm and disassamble it. If your clock is correct, please contact the author of this program for instructions on correcting this error report code 0,5542,5535. The copy protection mechanism often involves a process in which the software checks whether it should run and, if should, which functionality should be exposed. This is why I need to crack it so I can use it.
Next
Learn How To Crack Any Trail Version Software Like A Hacker ~ Download What You Want
There are usually two places a serial is stored! Using this, you can completely bypass the registration process by making it skip the application's key code verification process without using a valid key. Now load the modified program, you can that no expiration error message is shown. If you crack a program, and either sell the crack or offer it for free, it is a crime! Now view the call stack by pressing the Alt+ K. Notice if the executable is packed then we are not going to be able to read a lot of strings within the file. That is important to note because it lets us know that it is checking for a registration key maybe a keyfile or registry key before the program even loads. Resized to 100% was 606 x 123 — Click image to enlarge Go ahead and write this number down. Now 32 bit applications runs fine on 64 bit but not vice versa.
Next
Cracking using OllyDbg
Next press F12 in order to pause the code execution so that we could find the code that causes the error message to be displayed. Press Run again to see if there is another set of characters to be added. Play nice, support each other and encourage learning. No more Trial softwares, patch them yourself easily. How to reverse engineer In here, we are taking a keygen.
Next
How to Crack any software using OLLYDBG
Guides and tutorials are welcome here as long as they are suitably complex and most importantly legal! Download Ollydbg: Figure 1 Keygen. In the right pane we have a key called RegCode with our bogus key: 1234567 stored in it. Hey dudes lets start Cracking today and lets see in the real world how Crackers phishing Serial from software. First, run the program that you are attempting to reverse engineer and try to activate it with a random key to verify that you need a valid software key to proceed. Now, what we are going to do is that we will simply try to surpass this whole wrong password thing to — Right Password with the help of OllyDbg. This is not the registry key we are looking for so press Run again.
Next
How to Crack any software using OLLYDBG
This is another interesting piece of code…. Please, don't contact me to crack programs, it is illegal. We will use olly for everything, like patching, finding serial keys, unpacking, studing, etc. We are finding the string — Right Password. File Life: 30 days after no activity.
Next
How To Crack Any Software With The Help Of Ollydbg (Bypass the
Although we have 2 more strings to check, so lets continue. Facebook : Email : How To Crack Any Software With The Help Of Ollydbg Bypass the How to install: — Download, extract and run. So, the first task is to identify its origin. The most important flag is the Zero Flag, which can get zero or non- zero 1 values. In this Tutorial, we crack a Face Tracking application called EyeTwig Tracker.
Next
Use Any Trial Software Forever! No Crack Needed
We are going to start by opening Ollydbg. Clicking Copy to Executable, and then clicking All Modifications. This means that if it is replaced with anything other than null, it will run. To advertise on our website, please visit our Advertise with Us page. The Win32 Disassembler allows you to: 1. That is why as we stated earlier, assembly programming knowledge is necessary when reversing with native executable.
Next
How To Reverse Engineer Using OllyDbg
Try to locate strings and keywords, try to enter the password and see how the program responds. It's like the program knows about our intentions and it is closed by itself when we try to run it with a debugger tool. In order to explain reverse engineering, we have downloaded the beta version of software from internet which is operative till 30 days. Your nan being phished doesn't count. Your ultimate objective is to prevent the program from hitting the error code path. How To Crack Trial Software 30 Day By utilizing Date cracker, you can trial period software. If you've ever wonder how pirates can take software and crack it time and time again, even with security in place, this small series is for you on how to bypass software registration 2019.
Next