Crack software debugger wont run. Use OllyDbg: Bypass detect debugger
Crack software debugger wont run
Rating: 9,1/10

871

reviews
debugging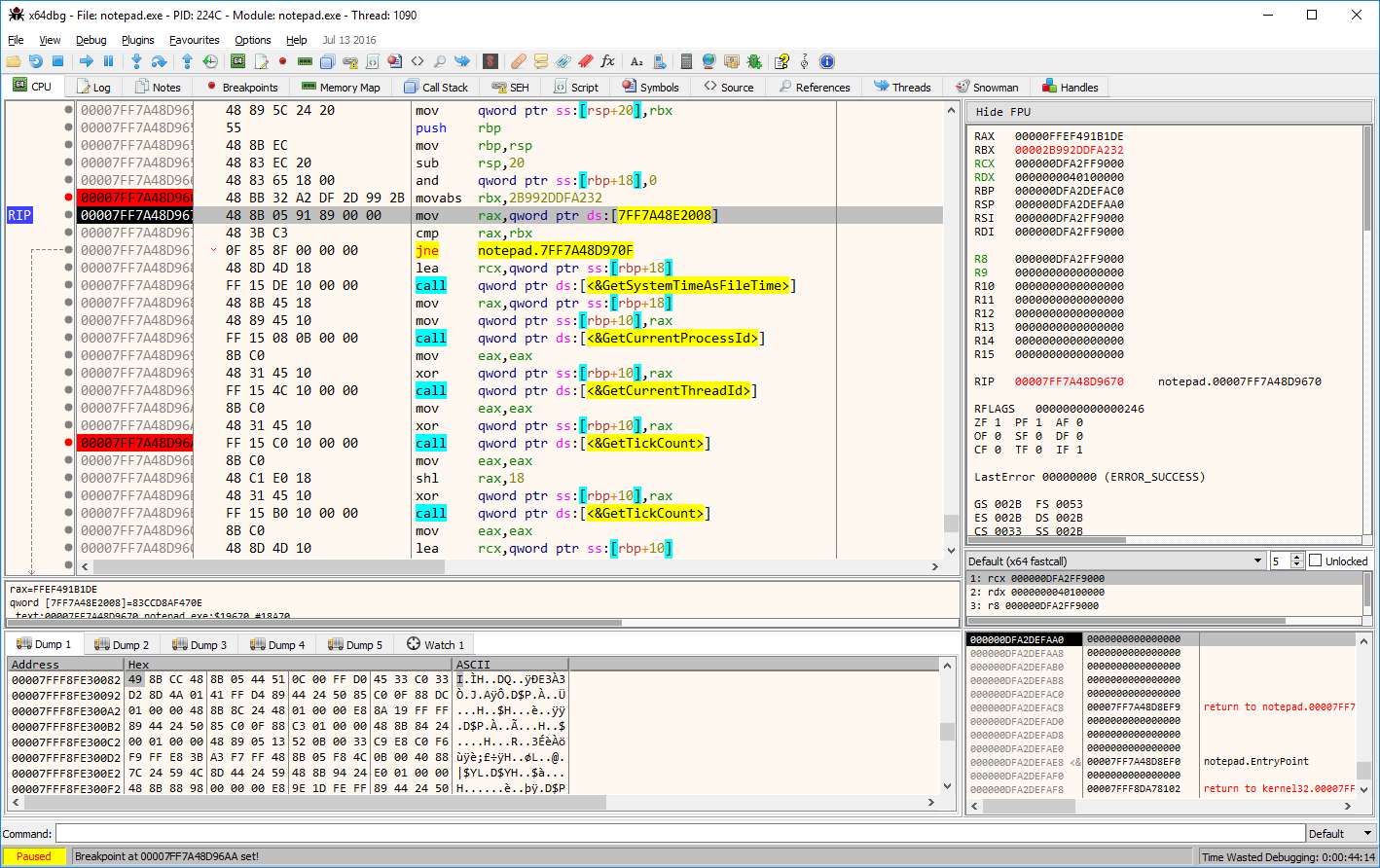 You can check the list from here: The mouse will drain out the battery so charge the power with full capacity. With just a debugger and a disassembler, we can often extract keys and learn a lot about the our target software. Disassemblers A disassembler is a program that translates an executable file to assembly language. Just like reverse engineering a watch requires a specific skill set and tools, reverse engineering software requires its own field-specific knowledge and tools. Step 5: The program begins analyzing the whole device to locate the files. After that, the program stops and deletes the service and the original driver file from the temp directory.
Next
Debugger Pro 8.15 Crack Patch & Keygen Free Full Download
Does Immunity Debugger Work on all Operating Systems? According to the , this function determines if the calling process, i. Search for the security software installed in your computer in the Windows 8 search option. One of these new features is Time Travel Debugging, which allows you to record some period of program execution and then replay it as many times as you need. Then F9 to check whether the patch is successful or not: So I finished the tutorial. Cheat Engine Serial Number is capable to give you very authoritative scanner which can easily find the values that you are looking for. Immunity Debugger works on Windows operating systems.
Next
How To Bypass Software Registration in 2018
Legal requirements vary from country to country, so take your time to research them before you start. Software Reverse Engineering Process For different software reverse engineering tasks, you need different types of knowledge. Only if you are able to think out of the box and figure out how to bypass the software protection yourself, then you consider yourself as a software cracker. This is to verify that we can come up with the keys. Disclaimer: This article is for educational purposes only and we do not encourage software cracking. Written by Sergii Bratus, Development Coordinator, Network Security Team Anton Kukoba, Security Research Leader Contents What is software reversing? Having the tools to apply your knowledge means that you need to have a screwdriver or other dedicated tool that will give you the chance to open the watch.
Next
Use OllyDbg: Bypass detect debugger
The middle window contains a call graph of the entire binary. You should see a window similar to the screenshot below: At the very top is the navigation band. The following screen shot shows the Debugger check box on the Image File tab in Windows Vista. Immunity Debugger is used analyze malware, write exploits and reverse engineer binary files. Now you are able to achiever values or data for your games with the use of Cheat Engine Keygen. Step 5: Determine whether the problem returns If the problem still occurs, repeat step 1 and step 4. Whether these should be command line arguments or something else depends on the application.
Next
How To Crack Programs Yourself with Offset Comparison Tool • Raymond.CC
First, run the program that you are attempting to reverse engineer and try to activate it with a random key to verify that you need a valid software key to proceed. These tools are absolutely indispensable for reverse engineering. Here in this article I will share you two different methods to backup your data with a broken screen and hope this will work for you. In addition, the application does not only provide the means for analyzing traffic but also managing it. Having knowledge of the field means you should know that there are three types of watches. Or you can just click the Save button to continue.
Next
how to use IDA Pro
This sub is aimed at those with an understanding of hacking - please visit for posting beginner links and tutorials; any beginner questions should be directed there as they will result in a ban here. Testing: In this phase, the code is built and run the code by coding assistance. It has full extendability and interactivity and close as possible to a high level source code. You can run crackme to see more detailed information. WinDbg, like OllyDbg, is a multipurpose debugger for Microsoft Windows that is distributed by Microsoft.
Next
Ollydbg
Investigate and try and understand why your program has stopped working the way it is meant to and alter things in your program to allow the developer to experiment with correcting the effects of a bug. See the picture below to see my breakpoints. It is a function exported from Kernel32. If this question can be reworded to fit the rules in the , please. This skill is useful for analyzing product security, finding out the purpose of a suspicious. In addition, it could also be useful for people without a deep understanding of Windows driver development.
Next
Best Debugging Tools & Software 2019 (Find Bugs & Bounty Hunter!)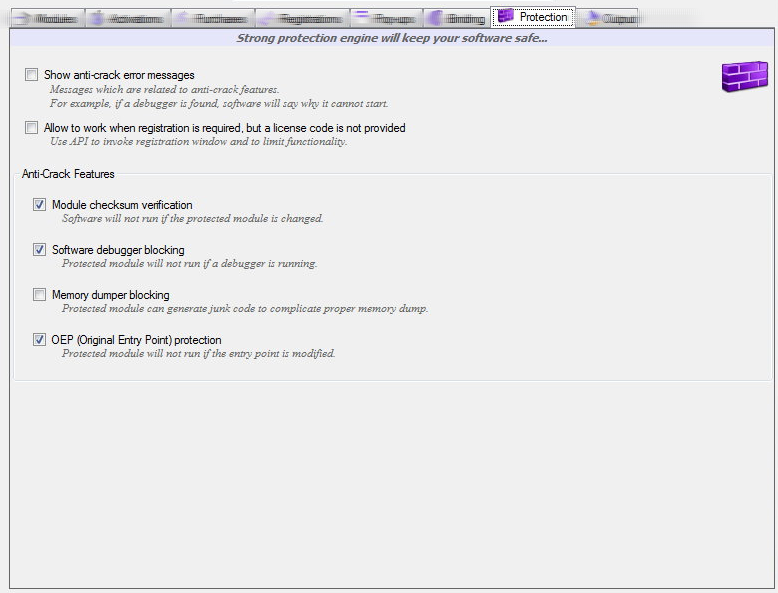 Open up the program you wish to bypass with ollydbg. I can imagine the inconvenience you have experienced. Pycharm also helps the programmer to understand the code and the programmer can change the code easily according to their requirement. The latest full version of this tool is commercial but you can download a less capable and earlier version version 5. So the optimizer decided just to keep the final value of the count variable and place the value directly as an argument for the count output operator. So we will have to deal with this common anti-debugging technique.
Next
How To Bypass Software Registration in 2018
Remember, the method shown above will work if the software protection is unchanged and provided if you are still able to find the older version of the program which the old patch works on. It's likely that you're conflating debug mode which is something you do at compile time with other features that actually are useful to have in a release binary, such as a -v flag passed by the user at runtime for increased verbosity in command line tools, or a diagnostic mode in video games triggered by the user during execution to help players identify lag sources on their server. Network administrators may be capable of researching bizarre site behavior, traffic from outgoing applications. You can preview and backup the selected data to computer. Two of the key features of this tool are Multitarget Disassembler and Multitarget Debugger. Go to the second address to and set a breakpoint there too by pressing F2. It monitors serial and parallel ports and all traffic that goes through them.
Next
How to Crack any software using OLLYDBG
Does anybody know who I can contact in Germany to twist this scammers arm? While Multitargert Debugger is a debugger that adds dynamic analysis to the data gathered by the disassembler. Play nice, support each other and encourage learning. Before checking out the advanced cracking tutorials, we can show you a very basic and logical method on how to crack programs yourself based on an old patch that does not work with the latest version. A subreddit dedicated to hacking and hacking culture. Main Uses of PyCharm Professional Crack Project and navigation: In this feature, the project are views that are special, the structure of the files are also views.
Next