Brute force password generator python. Python Making Bruteforce Password Crack Faster
Brute force password generator python
Rating: 8,1/10

164

reviews
python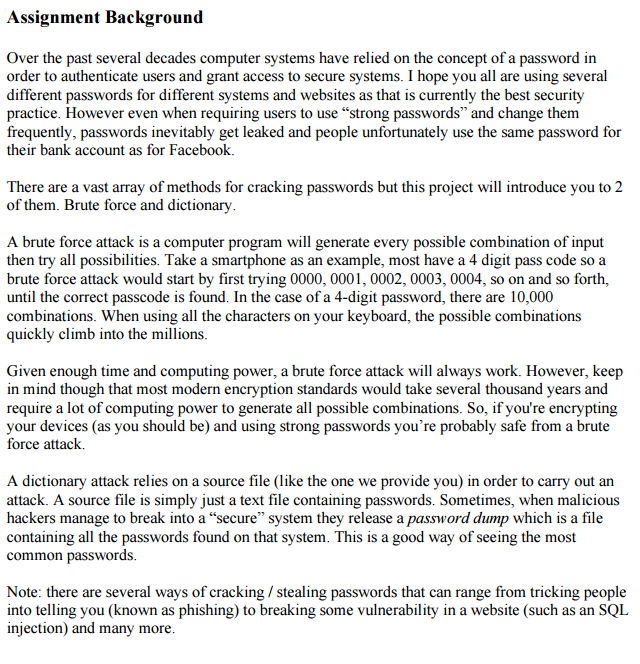 It consistently used less than half the guessing attempts to find passwords of all lengths than our original random method, but it also has other advantages. This can be really helpful when characters in the password is known but not the correct combination, here possible combinations decrease drastically. Here is one for you, where the passwords. Today we'll modify the code to use a brute-force guessing method instead, and compare the difference in the number of guesses required for each. FormNotFoundError: no form matching nr 0 Most the time i ended up getting this error even though there is a form element in the page.
Next
Password Brute Force
I feel like there is a better way of doing this using a loop or something like that, but im still trying to figure that out. Note also that the timing and output string are not in there. Use the links below to read each article. General We've imported the Time module to keep track of the time it takes to guess passwords. The first key, 1, is set to zero, so the first character of the password will be 'a', the first item in the characters list.
Next
Python password analyzer. Brute force guessing method.
You should see a single random character on the screen. So you spend a great amount of time by trying out combinations that are extremely unlikely to ever occur. Obviously you won't have the luxury of knowing the length of a real password you try to guess, but we're once-again trying to keep the same scenario as the last random tests. But I need to know how they really works. I would like some feedback on this code if you don't mind please, thanks. I show it like this in order to be easier for you to understand what is going on. I have been trying to work with your strategy but I can't seem to figure it out.
Next
Python Brute Force algorithm
Remember not to just print this as that will not work. The 1 key represents the first character in the password, the 2 key is the second character, etc. I've seen Python code which is written Java style, but is still easy to read because the author was consistent in their style. One of the key components in this technique is an algorithm that generates the input combinations. Finally, we put it on GitHub as an open-source standalone project. I've been playing with a piece of code and i've been researching and modifying it to do what I'd like to do, but for some reason it's not working.
Next
Brute Force A Website In Python
This took 700,000 guesses compared to the random method's 1,679,000. Then we'll re-order the characters, placing the most common letters at the front to decrease the number of guesses required. Brute-force versus Random I'm calling our new brute-force method the clear winner. Mechanize In the following brute-force script we use , a python library for stateful programmatic web browsing, used for automating interaction with websites Initially it was written for users. In real life you will not know the length of password Password Brute Force Possibly Related Threads. I thought it was going to make it faster.
Next
String Generation for Brute
So you need to strip this before comparing with the user input. The faster our machines and algorithms! The only thing I'd suggest is to break some of your longer statements up - such as your print statement at the end of your script - onto separate lines, with each separate line being indented. If the quota is set to 1, the program will prompt for a single password to test. Suppose if we know the characters, we can find the correct combination in 64 seconds, far less than previous case. If not it will use the password you entered at the prompt. Following two ways will automatically download the latest version source and install it for linux users. In this case the script automatically assigns the length, and only generates guesses of that length.
Next
Generator of all possible 8 symbols strings. Brute force 8 symbol password. python
The thing is, that it might take some time. Leave a comment below if you have any questions or suggestions. Starting with 'a' though, this was helped by the order of our characters in the characters list. What you wrote was very different to what I wrote, I actually couldn't replicate it by myself, So I just wanted to ask, was there something I could've done to my code which may have resolved my issue? It seems to run fine but doesn't recognize when a password has been matched. Some of the lines in my code are optional like counting how many attempts it took to guess the password. I'm trying to get this program to read passwords from an external list and match them with the password which has been inputted by the user.
Next
Brute
If anyone can give me a commented code of this kind of algorithm in Python or any programming language readable,I would be very grateful. Tried all 916132832 permutations of length 5. The characters list is still there to provide the building blocks for the password guesses. Well, the loop is pretty much generate a password, try it and try again. . Following paragraph gives a vague idea of how much time it can take to find right combination in the worst case scenario.
Next
Python Making Bruteforce Password Crack Faster
Tried all 238328 permutations of length 3. Go through itertools docs for more info. I'm waiting for the five-character test to finish, so we'll try a couple of single five-character passwords. Radek Pazdera Writer of programs and a few other things. The number of possible outcomes lowers a lot by this optimization while the chance to miss is still almost zero.
Next