Decompile and recompile apk linux. How To Decompile and Embed Payload to Android Apk
Decompile and recompile apk linux
Rating: 9,8/10

824

reviews
[TOOL GB/ICS/JB/KK] Decompile/Recompile apk …
After the app is correctly decompiled, a new folder will be created in the same folder where you placed your app. Lot of things to learn in a single tutorial, right? If you already understand what i said above, lets start to final section 3. And if you think you can improve upon the app, download the and have a go at it. It can decode resources to nearly original form and rebuild them after making some modifications. I wasn't using Apktool before, it was ApkEdit and that was the one that I couldn't compile with.
Next
[Guide] How
Reverse engineering involves a lot of steps, complications and time consumptions. To the victim it will look and behave exactly as the original app, so he will use it regularly without any doubt, letting you do anything you want to his phone. AndrolibException: Could not decode ars c file at brut. Free learning courses, video tutorials, Ebooks … and more! So if this has you interested, head over to the for more information and download. Run keytool using the following syntax. This is just example Ok Let's start! If you love hacking like us, and wan to grow up your hacking skills to an expert level, then K4linux is the perfect place for you.
Next
Decompile an APK, modify it and then recompile it
In this case you can remove the non compilable methods, keeping only your changed method. If you are going to modify any app with this process, please read the license doc of the app before starting Download the below files: For Windows: 1. I had the need to take an existing , tweak it, and rebuild. My application is a basic a HelloWorld whitout obfuscation. At the prompt of the Ruby script, enter the number corresponding to the Activity name you had noted previously and press Enter.
Next
Decompile and Recompile Android APK file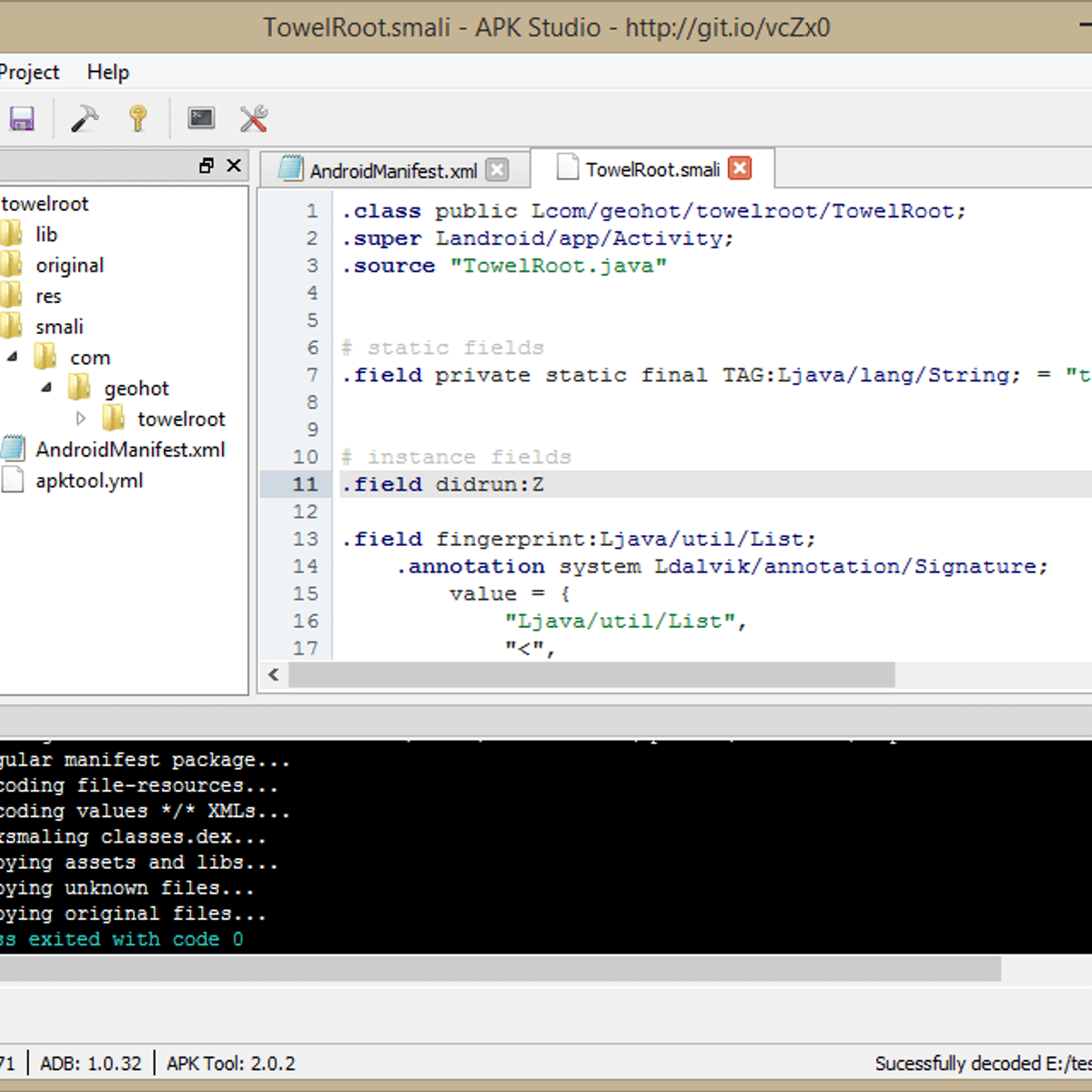 After recompile is complete, go to GreenRockers or Settings folder, Open dist folder and open GreenRockers. Don't Miss Set up Requirements The only requirement of apktool is Java version 1. I've downloaded the apktool and now I have 3 file apktool, aapt and apktool. To install Apktool, refer to the. Just point it to inside Projects directory. I know this is quite old answer, but I'm going to post the solution in case somebody still need help. Knowledge to use LogCat - if you don't know how to do this, visit this thread How can I know what's library is needed? You will obtain the smali version for your java module.
Next
How To Decompile and Embed Payload to Android Apk
To avoid this, we will align the package using Zipalign tool. So be careful while editing these files as they might cause unexpected responses on your device. Once you run the command, if you are lucky, the script will do everything by itself and complete the whole process. Also allows to extract and sign any apk. So its unfortunate that one of the most popular tools for modding and theming, , requires such input.
Next
How to Reverse Engineer (Decompile/Recompile) Android Apk Files
Now run apktool d this will decompile your. If you have just generated the key, ignore this step. I previously had a nexus 5x and on certain roms ex: aosp extended and octos the 4g+ icon would popup and I would notice an increase in data speed. All our work will be done within a directory called work within your home directory. Stay tuned for special guides about manipulating App icons and colors and adding or removing functionalities to your apps! Once I lost my code and I had the apk file only. In res folder all the media files are available. It also makes working with an app easier because of the project like file structure and automation of some repetitive tasks like building apk, etc.
Next
Compile, decompile and sign APK using apktool utility. · GitHub
Hello I want to keep things simple and very easy. These files are responsible for the functionality of the app. I am describing here for Windows. After completing this you will see a folder has been created with the same name of the apk file. This process is strictly prohibited by law.
Next
How to Reverse Engineer (Decompile/Recompile) Android Apk Files
Let us set that story apart for another article. You are now free to edit the AndroidManifest. Smali is a language type similar to assembly. Since you must use the stock fw and not the one you just edited do you have redo all your edits even though you want to change just one thing? Another online Apk De-compiler Andrew Rukin : Still worth. If you really want to change functionality then do some research on these files. Ive dug into the matter and apparently in systemui. After I saw that this script does what it promises, I learned the process by reverse-engineering it.
Next